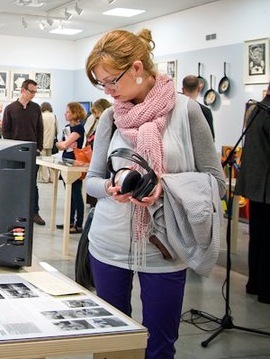 Riga durational dialogues #2: Maija Rudovska
posted: 29 October, 2012
This was maybe my favourite conversation of the programme, as I felt Maija and I started to tap into something personal, universal, and honest. Unfortunately the fidelity takes a hit as the crowd became a bit busier and the background noise makes this a bit difficult to hear.
The Little Dipper part 2: Maija Rudovska
Maija Rudovska is a curator, researcher, and art historian based in Riga. She has completed Curatorlab postgraduate studies at Konstfack University College of Arts, Crafts and Design in Stockholm. Currently she is working on her PhD thesis at the Art Academy of Latvia. In both academic and curatorial work she is interested in such topics as post-Soviet space, hybridity, peripheries, ideological spaces, etc. She has previously curated/co-curated such projects as Regard: Subversive Actions in Normative Space (Moderna Museet, Sockholm, 2010), Hardijs Ledins (1955-2004) –Zeitgeist and the Atmosphere of a Place (Riga Art Space, Riga, 2009), Candy Bomber – Young Latvian Painting (The Latvian National Museum of Art, Riga, 2007/2008), etc.