Report from Kompass - day 2
posted: 23 August, 2014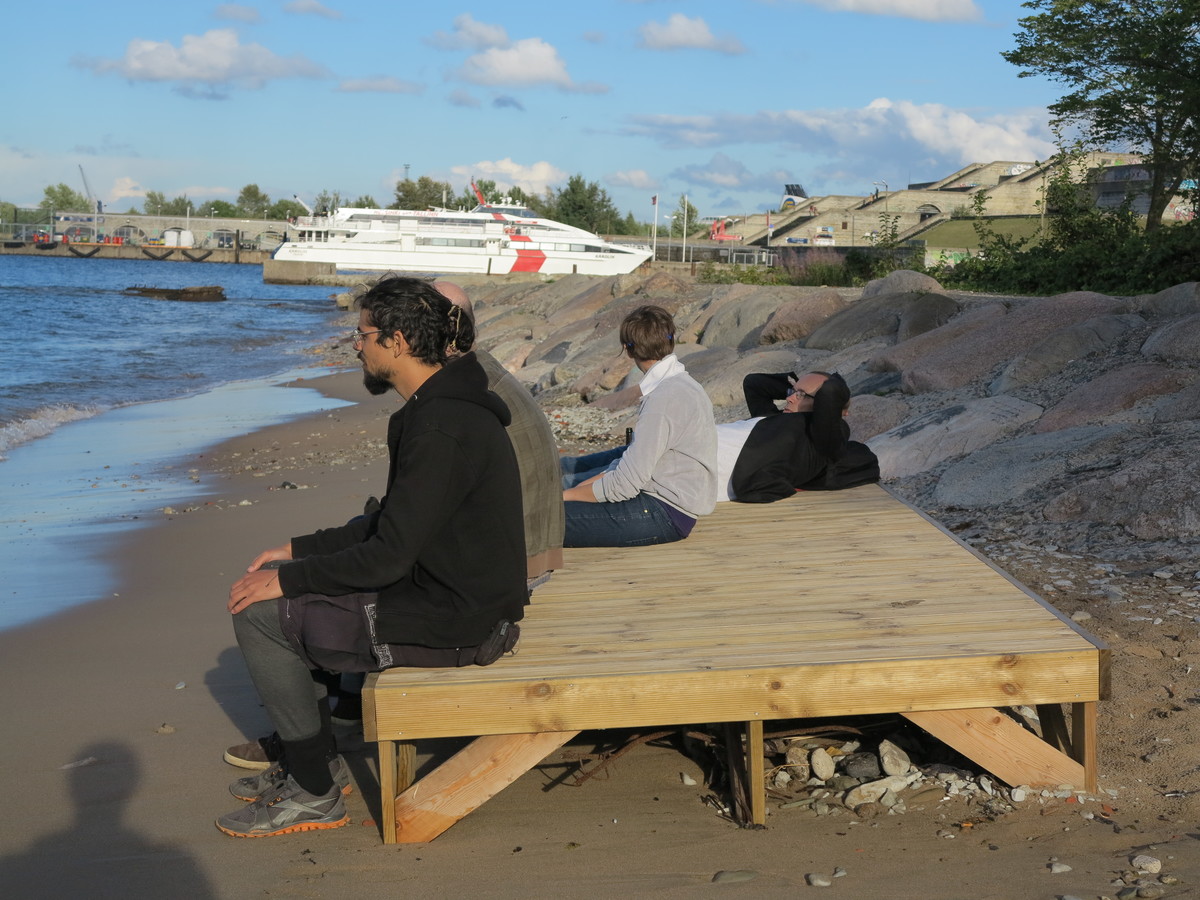 Friday was the main day of Kompass, which I felt was a modest event, organised around an afternoon un-conference format. Unfortunately, the turnout was much lower than I had hoped - we had ten people who remained from Thursday night, and only one ethnic Estonian. This isn't necessarily an impediment to productivity - a smaller group means a more intimate experience and can often be better - but it meant that the original plan to hold a BarCamp-style session, with smaller groups in different rooms, was no longer feasible.
After the first night, everyone was familiar with each other enough, so we spent the afternoon together in the blue room, sitting in a circle and moving through various topics in a semi-structured, organised on-the-fly manner. I started with a warmup exercise, where I asked everyone to write down one goal or dream. These dreams were randomly passed to someone else, who then played God and listed what steps would be taken to make those dreams a reality, if there were no logical obstacles such as money or time.
This was a good starting point, I think, as the dreams ranged from abstract and contemplative ("I want to always have a chance") to more specific and fantastic ("I want public buildings to have interfaces to which we can attach our own projects"). The discussion grew from these dreams and we touched on a lot of topics, usually supported by our own experiences. The very real problems (financial support, finding space, engaging the public) were addressed, and everyone seemed comfortable enough to suggest approaches.
The second half was divided into short sessions led by different people, which is perhaps closer to the un-conference plan. Michael Haagensen asked us for suggestions on how he could creatively engage local communities with his Kilometre of Sculpture project (which will travel to smaller towns in Estonia every other year) without just using them for their space - how to properly bring these people into a collaborative role. Märt Põder talked about the Internet as a form of public space, and his interest in mesh networks and how they could be used to provide unrestricted and free Internet access to densely-populated urban communities. I talked a bit about the Alternative Mobility Research Triangle, a networking project I'm working on through Pixelache that will collect information on artist and culture-based residencies that deviate from traditional structures, with the eventual hope of launching an "inverted"-structure residency in Helsinki in 2015 (an idea that Michael originally provided me with). And we talked about the very real problem of Kaspars and Totaldobze, who is being forced to vacate the beautiful, massive building he has been using because he cannot take on the economic risk attached.
My goal was to have an actual outcome from Kompass - perhaps just a bullet-point list, or an A4 page listing some ideas and concrete proposals to emerge. Kaspars and I had originally planned to float between the unconference sessions taking notes and looking for real problems that we would then address in "instant workshops" after dinner - 45 minute sessions where teams of 2-3 people would be assigned to brainstorm possible approaches to these problems. Because we had so few people, and the discussions were quite rigorous, there didn't seem to be any need to try that. Instead, we left dinner and walked down to Kalarand, talking in smaller groups and enjoying the last few hours together.
Anyway, some more discordant thoughts, for lack of anywhere else to put them...
The interfaces for how we contribute to culture have been so influenced by the Internet that we don't even realise it. When talking about creating forums for discussion or instigation, so often I think of analogies to Facebook and blogs, in terms of commenting, "like" buttons or other methods of measuring consensus, and even GitHub-style "forking". At one point the idea of an analogue Facebook was mentioned, which I think someone did in Vilnius recently (I forgot the details). This was a side thought I had when we were discussing this concept of opening up public buildings for people to modify and 'attach their own projects to' (if I am correctly quoting Märt).
The success of Ravintolapäivä in Helsinki and elsewhere shows how public and private space can be combined, creating fun and dynamic projects which generate lots of enthusiasm. Riga has something called 'shadow day' which is akin to a widespread internship programme/"take your daughter to work day"; young people follow others through a day in their life. When talking about the transformative powers of these days, I realised how much they depend on being only an occasional thing. Restaurant day is great but only because it's not every day; now that it's four times per year, that might even be too much. (Just like the NHL overdid the outdoor games last season). I love the idea of bringing people into private space more, and really trying to blur those lines. These initiatives are difficult not just because private space is quite small (especially in a place like Helsinki) but because of people's own sense of privacy and propriety. It may be that getting people to overcome that, even for one day, is a more valuable outcome than anything else in these projects.
Kaspars and his situation with Totaldobze (trying to keep it open but not having a space) is a familiar, constant struggle. Property owners (whether private or otherwise) are rarely willing to take risks; the financial risk of operating a culture space always ends up on the culture operators themselves. Paula's initiative, Līksnas 26, happened because a private owner actually approached them seeking a way that her otherwise empty building might be used. Maybe more public appeals could make this happen more frequently. But generally, the goal of a property owner is to make money, and if their space is vacant or derelict, our culture projects must have the bottom line of improving or adding value so these properties one day can make money.
I'm not sure this will ever change as long as we have stick with the us vs. them mentality. Someone once told me that a common structure for business rental in Japan is that the landlords receive a percentage of the tenant's profits each month rather than a fixed amount, so it becomes in the interest of the landlords to see their tenants succeed. This surely would present legal obstacles (especially if renting from a city or state government), but would perhaps change the relationship and lead to something that marginalises us less into the zone of 'temporary'. Other models were tossed about - the 'anti-café' model in Russia which I didn't completely understand, and of course squats. How can we collectively share risk, or even moreso, reduce or entirely eliminate it?
Our discussion on residencies was fruitful but maybe something I'll save for later.
I hope this was a worthwhile project to have embarked upon. I joked about Kompass II next year in Riga, which maybe would work better. I can't forgive myself for not managing to get more Estonians attending this, but I guess if people aren't interested they aren't interested. I don't want to write too much here about my failures as an organiser in Tallinn, but I can't help but think that this would have had 100 people turn up if a different institution was behind it. I don't know what I actually expected to happen; maybe it was a fantasy that Latvian and Estonian culture producers would meet at Kompass and start collaborations, as networking isn't something you can force - it's more about creating the environment. My role as organiser is to just enable things, and maybe as a foreign-born organiser I can cut against some of the social insecurities that would affect local people. Still, hopefully the few people that met here managed to spend enough time together to feel comfortable enough to approach each other in the future, whatever the idea may be.
Photos here are by Jonas Büchel.