DIS/Orientations workshop in Helsinki
posted: 30 April, 2012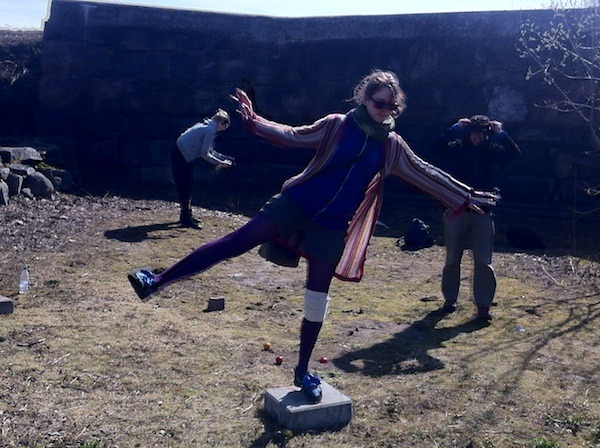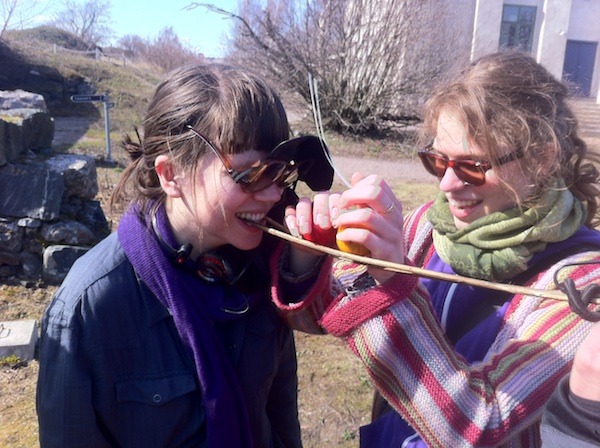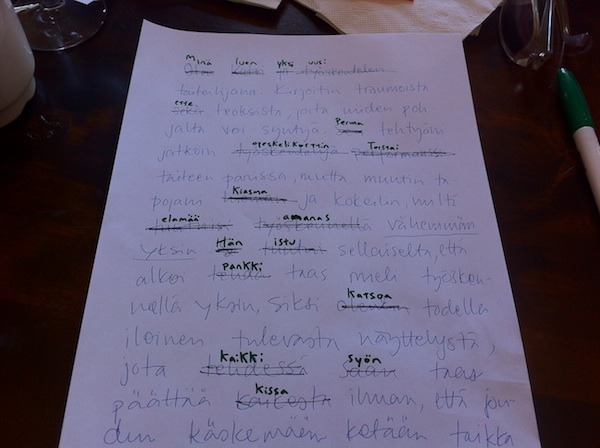 Yesterday, John Grzinich, Sari TM Kivinen and myself led a workshop called DIS/Orientations on Harakka Island, Helsinki. This was part of the La-Bas 'Concept of Performance' Biennale, a 5-day investigation of performance and sound art. This was our first shot at trying something extremely experimental and improvisational on the theme of orientation and disorientation. For a few hours, the ten of us explored various exercises that were performative in nature, at least enough to justify it's inclusion in the festival. In terms of orientation we looked at re-mapping - exploring our surroundings by superimposing the map of an entirely different place - and intuition towards compass points. Disorientation was achieved via sense blocking (using blindfolds, earplugs, and bungee cords), textual games (by modifying each others biographies as an introduction) and simple performative scores: "Find a problem, and instead of solving it, enlarge it." The purpose, if there must be one, was to massage the unintentional serendipities that may come out of failures, misinterpretations and mistakes.
John (a sound artist and co-organiser of
MoKS
) and Sari (a visual and performance artist who is director of
Ptarmigan
Helsinki) were a dream to work with, and as we're quite good friends it was natural and fun. I hope we can develop
DIS/Orientations
a bit further and take it elsewhere -- and some other ideas for workshops or other collaborative forms were born, such as the idea of "object re-purposing".
Great participants made it great fun, and it was very much an experiment for us as well. Some of the exercises, such as the sense blocking, didn't need any additional structure, while others would have benefited from more clear instructions. And while the value of workshops as an art practice, for me, is in the moments of people creating together, sometimes I do feel the need to have "findings". It's not that we have to draw conclusion or have specific objectives, but at least face towards some convergences.
Despite not actually being a performance artist myself - in any way whatsoever - I love experimenting with action in groups. The opening of our workshop, where we passed out slight variations on the problem-extending score mentioned above, turned into a surreal, wacky bit of wordless group nonsense. This part reminded me a lot of the Resonance workshop that Bilwa and Kristin Orav led in Ptarmigan Tallinn last September - perplexing aberrations of behaviour, breakdowns of order, and repetition without a goal. While it's easy to be seduced by the humourous components, it's also wonderful to reimagine elements of the quotidian through such absurdity. That I can follow these threads as a component of an art practice is also wonderful, and I count my blessed stars to be in a position like this.