Ian Nagoski, Meisha, Plea Circuits, Neptune
06 January 2001
posted: 23 January, 2012 18:22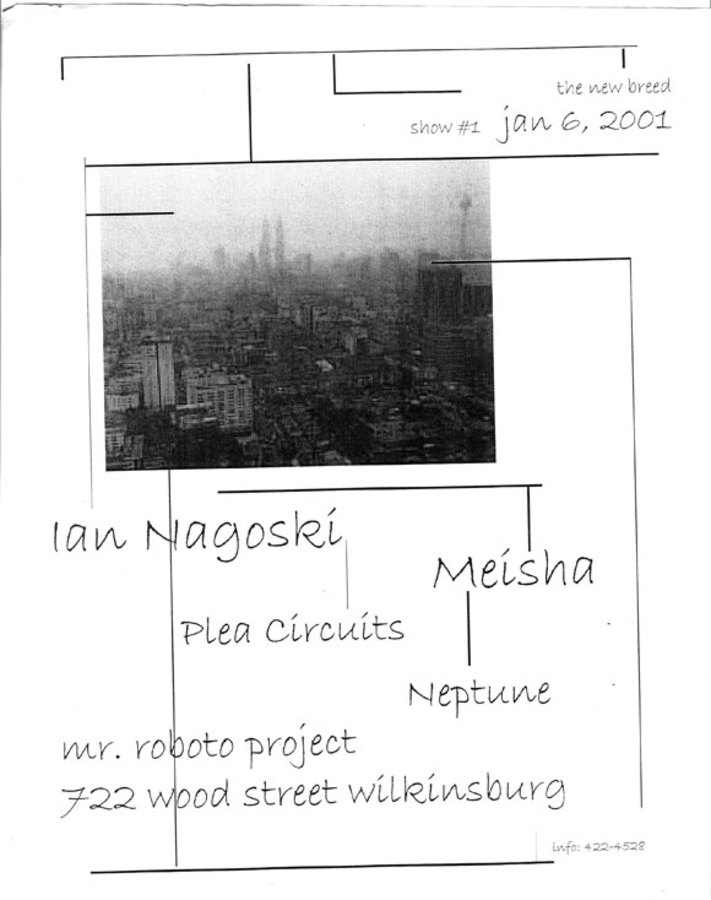 Download as PDF
This was a show that I set up, which I apparently titled in a series called 'The New Breed'. I think I grabbed that from an Impulse records compilation LP I found (a pretty good one with Archie Shepp and Grachan Moncur III on it), attempting to brand shows i promoted. It's funny cause in Pittsburgh in the late 90s, no one did that, whereas my experiences in Europe are quite the opposite - it's always "<something> Club", more prominent than the artists playing, which has always irritated me because it suggests that the audiences go because of who is promoting it more than because of the music itself. How ironic that I myself was trying this.
I guess 'The New Breed' was my attempt to promote experimental music at the Roboto project, a DIY venue more known for it's hardcorepunk roots than for the LaMonte Young-trained minimalist composition of Ian Nagoski. I don't know if I ever used the title more than this one time.
I remember that the upper/stage area wasn't used as a stage (it rarely was) and I sat up there watching Nagoski's performance, which sounded like a blast furnace, which I mean in a positive way. Meisha I remember nothing about but this must have been when it was just the Mike/Pete duo. Plea Circuits were the group of free improvisers who changed their name every show (featuring Edgar Um, Greg Pierce, Michael Johnson, Steve Boyle, Matt Weiner and probably others). Neptune were a band from Boston who built their own instruments out of sheet metal and I imagine this was a weird fit for the show, for despite the Harry Partch-like approach the music they played was early 80's-influenced post-punk.
But diversity was what I was going for then (as now) and I think a small handful of people turned up for this. You can see my terrible poster design again; I'm not sure what I did this in, probably an early version of Photoshop and I bet I just used the line tool to make all those weird right-angled lines. Not sure what city that is. And my font choice, ugh, what was I thinking?

This was definitely towards the tail end of my era of setting up shows in Pittsburgh. "Promoter" was the term we used, though now I would probably relucantly say "curator"?
If you have any information to add about this archival item, feel free to get in touch.