The Pittsburgh Sound, Choke City, Boom Box
07 February 2002
posted: 23 January, 2012 15:32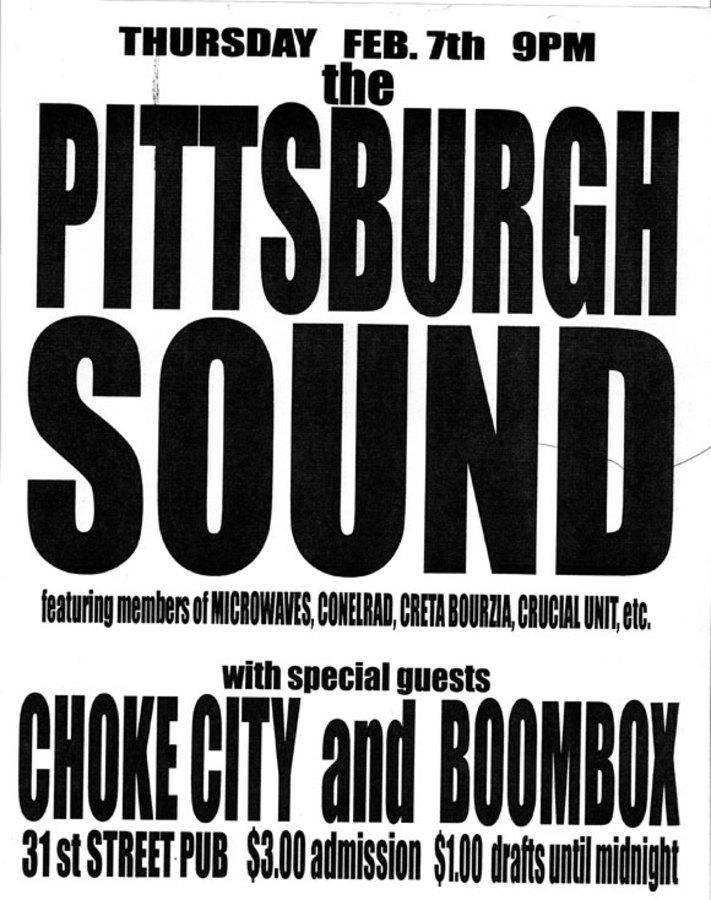 Download as PDF
The Pittsburgh Sound was a project organised by John Roman of Microwaves/The 1985 fame, which was modeled after a thing in Chicago called The Chicago Sound, which I think Weasel Walter started and looked to franchise. The Pittsburgh Sound was about 10 people who would play along to a mix CD of carefullly curated classic rock songs, which was played back through the monitors for us to play along to. No one was allowed to tune or rehearse, and the audience would hear a clattering mess, with the original CD faintly audible through the stage monitors.
I can't remember if this is the first or second Pittsburgh Sound show. The first one was "A Tribute to Hot Sax" and featured songs like 'Maneater', 'Baker Street', and 'You Belong to the City'. The second one was all songs with 'rock and roll' in the title - Joan Jett, Kiss's cover of 'God Gave Rock and Roll To You' (possibly the worst song ever written), and Gary Glitter's 'Rock and Roll pt 2'.
I was "lucky' to be in both shows, and maybe there were more afterwards but I declined to participate after realising that the Pittsburgh Sound was only fun for the performers, not the audience. I envisioned this sounding a bit like when the Residents would cover songs on their early records, but I think it was a self-indulgent mess.
This was likely one of Boom Box's first shows, but I don't remember anything about them (or Choke City) specifically this night. Boom Box featured Jim Lingo, Sam Pace and Caulen Kress - some of Pittsburgh most interesting and forward-thinking musicians; Choke City was a short lived Stooges-influenced band who I remember being very, very good.
If you have any information to add about this archival item, feel free to get in touch.