Storm & Stress, Meisha, Shale
Brew House Space 101, Pittsburgh, PA
16 August 1997
posted: 23 January, 2012 20:56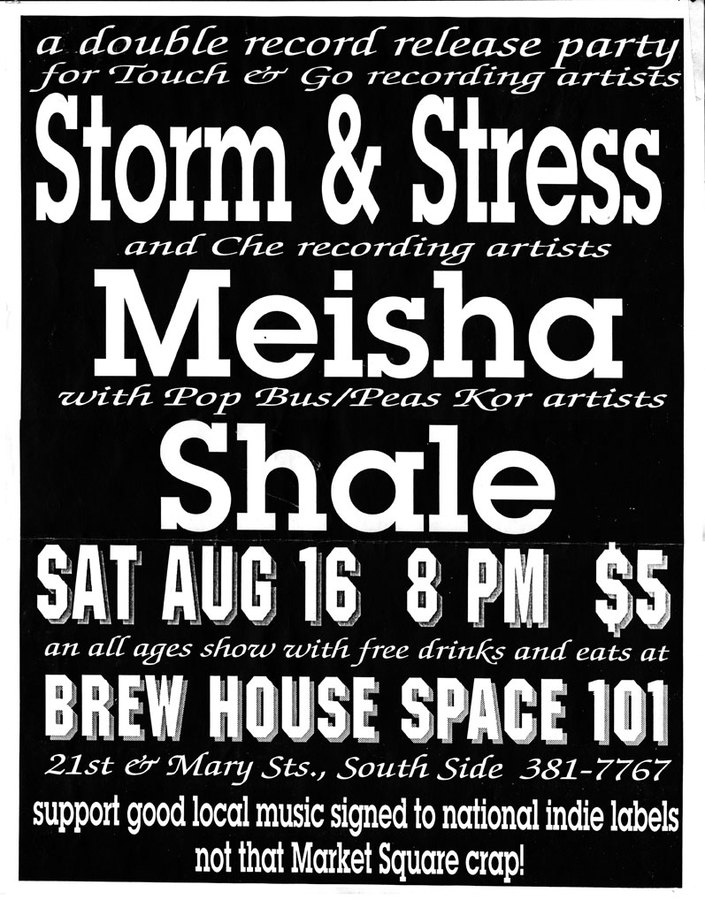 Download as PDF
Some experiences really stay with you. This show happened almost fifteen years ago but I remember a lot about it; it's got a pretty high place in the "formative shows" list for me. This was officially the local record release party for the Storm and Stress album on Touch and Go. i never heard Storm & Stress before - I just knew they were the new band by one of the Don Caballero guys and it was more experimental than my 17-year old self was ready for. Meisha, I knew; we had played together with my first band and I knew Mike a little bit - i think maybe we had hung out socially once or twice by this point. They were advertised on the flyer as Che recording artists but I don't think their record ever came out on Che; this was the CD release for the self-titled first Meisha CD on Mike's own GingKoba records.
This was the first time I ever attended the Brew House, a long-running Pittsburgh artist-in-residency centre that functions semi-collectively, I think. It was pretty rare to see music there, though it was ideal - a huge open reverbatory space, a great industrial feel, and a fantastic location right in the middle of Pittsburgh's South Side.
For whatever reason, Storm & Stress drummer Kevin Shea couldn't be there so Don Caballero's Damon Che sat in, making this a strange Don Cab/S&S hybrid. I was pretty blown away by the power of Che's drumming, even though I've never liked Don Cab (if anything, I resented them for their overbearing legacy on PIttsburgh music) I grudgingly admitted this was something powerful.
Meisha's performance was perfect - this was the apex of their early sound, which was made of delicately intertwining guitar arpeggios. Shale were probably great - I don't think I ever saw them not great - but I don't remember too much about it.
I was a young, fresh-faced kid on the scene; about a week away from starting college, and at that point going to shows and getting into the indie music scene was my raison d'être. At this show I was still an outsider, especially among these 'heavyweights', but inevitably on the horizon. Manny put this together and his phone number adorns the flyer; also note the great tagline which attacked the stodgy, boring Market Square summer concert series organised by the city.
I later bought Storm & Stress's CD, I think purchasing it from Jim Storch at Border's in Upper St. Clair. I no longer have it - it probably got sold off in some post-rock cleansing CD purge, but I remember it fondly; it never exactly influenced me but was one more step towards appreciating 'out' musics.
If you have any information to add about this archival item, feel free to get in touch.