Run On, Five Ball, The Low Numbers
17 September 1997
posted: 23 January, 2012 23:05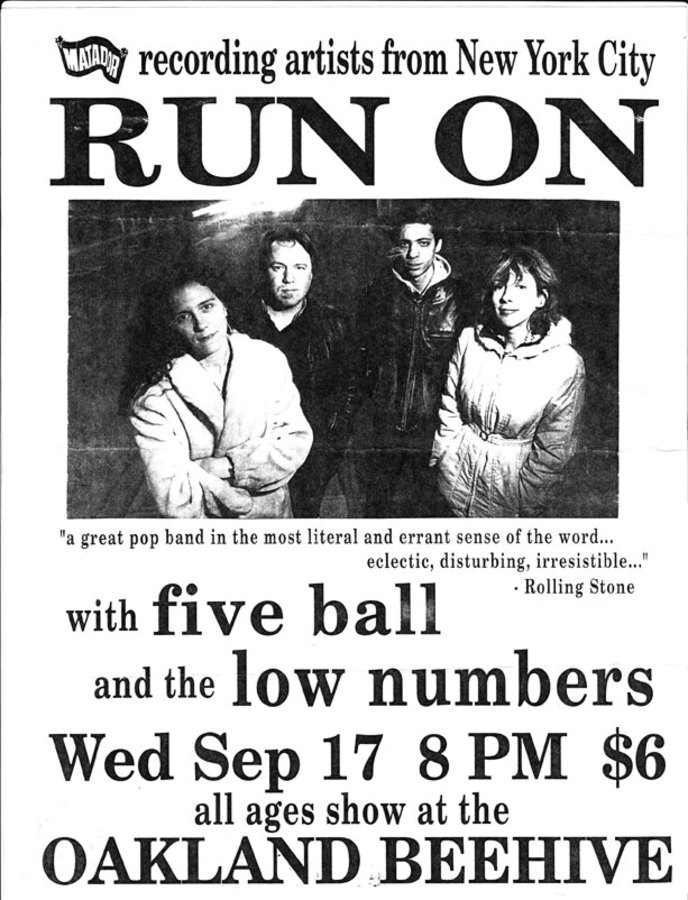 Download as PDF
I seem to have saved a large concentration of posters from 1997 and 1999 especially right after I started University which was September '97. I think at the time I was affixing these to the wall of my bedroom to make a tapestry of musical memories.
Run On played at CMU in the spring of '97, I think around May. I remember this being one of the best bands I had ever seen - totally tight, focused and driving. After the show my friend A. and I went to Squirrel Hill's Eat and Park and just gushed about how amazing they were. I was 17, about to graduate from high school, and poised to take over the world through the power of indie-art-rock.
This return show, so soon after they were absolutely devastating, was hotly anticipated. I felt like there were a lot of good shows to go to in those first few weeks of freshman year, and Manny was organising a lot of them at the Beehive right then - MIT had not yet opened, so it was a weird in-between period. The Beehive was actually the perfect venue then - all ages, centrally located, and just the right size. It's hard to pick my all-time favourite Pittsburgh venues - MIT would have to win out, and then it's probably a tossup between the Beehive and Luciano's.
This was the only time I ever saw the Low Numbers, who later moved to Philly, renamed themselves just the Numbers, and sank into obscurity. They put out one single that I know of, released by the WPTS in-house label, which I still play all the time, especially when I DJ. They were a really tight, slightly aggressive mod-pop band with a very edgy post-punk influence, yet rooted in the indiepop sounds of that time. Five Ball were a local band best forgotten; they played a lot of more pop-focused shows at the time and I never enjoyed them at all.
Run On were really bad this night. They were slow and meandering, clearly a bit stoned and not clicking at all as a band. I think they were improvising a bit - there weren't many of the hits and certianly not the same sense of euphoria I felt in the spring, when they played 'Xmas Trip' and the whole room was shaking.
Run On are sort of forgotten now, especially among their bigger name Matador peers from the same time like Pavement and Yo La Tengo, but I still think Start Packing is a high-water mark for the whole genre.
If you have any information to add about this archival item, feel free to get in touch.