Elf Power, Of Montreal, Sonic Rob & Ollie, Auspice
12 October 1998
posted: 11 February, 2012 14:14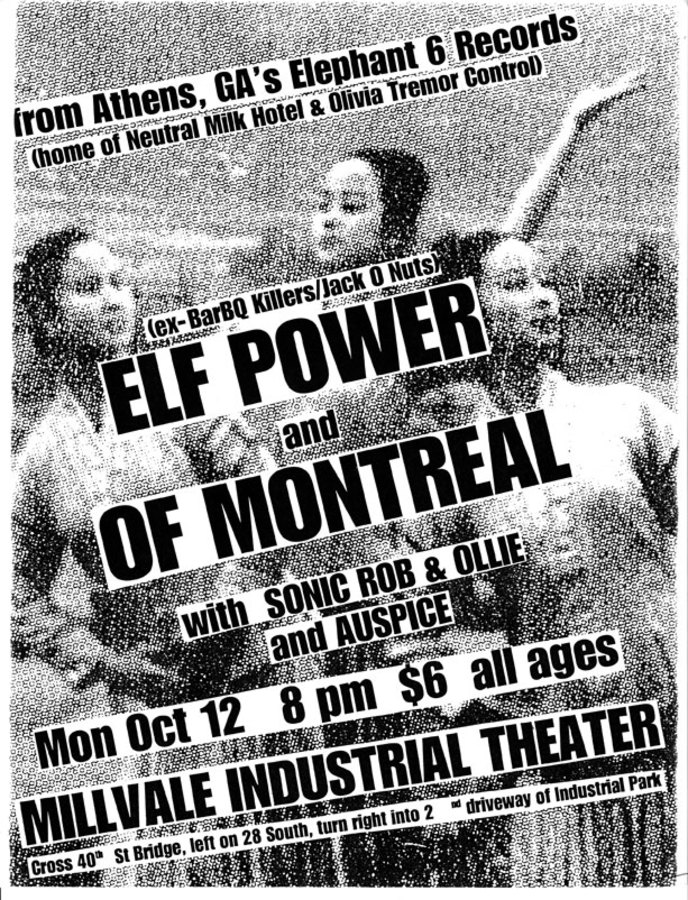 Download as PDF
Another Elephant 6 related concert - I'm going to get all of these out of the way. This tour came through before either band had really hit; I think Elf Power just had a 7" out, and Of Montreal were something I had only heard of. Both would later go on to modest success, particularly Of Montreal who managed to separate themselves from the E6-identification and probably still put out records today (I don't follow them).
Manny organised this and asked me if I wanted to be the opening act since he knew of my E6 love and (and website). It was kind that he asked, but Land wasn't ready to play live yet (I think we were just starting to practice) so I formed a quickie band with John Lancia. We called ourselves the Auspice Band, though we were only billed as Auspice here. This was (in retrospect) one of the more fun and quirky things I had ever tried to put together. This was, for better or worse, my singer-songwriter project as of autumn 1998. I have some photos of this show, where I am a lanky 18-year old playing the Mosrite electric guitar that I still own and John visible in the background on drums.
This must have been one of the earliest Millvale Industrial Theatre shows I went to. I can't remember when it opened exactly - I want to say summer 1998, and I think the first show there was for a Tim Berne project, maybe Bloodcount? I didn't go, and I was actually not fond of MIT because of it's practical limitations - I didn't have a car and I found it difficult and inaccessible. Now I look back on it as my favourite venue of all-time, disregarding Ptarmigan.
Auspice Band was pretty auspicious, I guess. The songs are hit and miss. At the time I was really into Mission of Burma and Olivia Tremor Control. I wanted to simultaneously be the singer-songwriter and Martin Swope. I worked out all of these layered noisy 4-track tapes, which were thought out and not just random, with various sound-effects, delay-pedal drones, and noise. I played this with the 4-track hooked up to a volume pedal which I used, at times, to bring the tapes into the mix. John also played keyboards a bit while he drummed. I think we were terrible this show. We played one more time at the first ADD fest the following month. Someone told me that the songs were similar to Daydream Nation-era Sonic Youth but that wasn't much of an influence --probably just a result of the weird guitar tuning I was using.
John took all the 4-track demos we had recorded during the 2 months of the Auspice Band and put out a tape on his Home-Aid label without my permission, called Improvement, modeled after the cover art for New Order's Movement. I'll post it here eventually, as I think there are some charming gems that I still enjoy hearing, like my ode to orange juice and some tender teenage emo tunes. The following year, when I was fully obsessed with Dead C and This Heat, we hung out Thanksgiving night and recorded four really experimental tracks that John also put out as the second Auspice Band CDr. There is nothing I would like more than to reunite the band after 13 years.
Sonic Rob & Ollie were I think a song-based trio of students who went to Pitt with me but I don't remember them. I actually don't remember much about the other bands, except that I enjoyed it. Elf Power covered Eno's 'Needles in the Camel's Eye' and Of Montreal were pretty dainty but I was into that at the time. They all stayed at my apartment in Shadyside but I don't think I ever saw any of them again. I was in touch with Bryan from Elf Power for awhile because of the whole E6 website thing.
The show was fairly poorly-attended, though I also realise now that any show with less than 50 people felt that way at MIT.
If you have any information to add about this archival item, feel free to get in touch.